Velkommen til Guiden "Bestil en gave til en dkwebcam model"


Først skal du finde ud af hvad du gerne vil give modellen i gave.
Det kan være noget fra hendes ønskeliste du ønsker at give hende.
Ønskelisten finder du på hendes DKWebcam profil - Som oftest i modellens Profil
Du kan også vælge at give noget du selv ønsker at se modellen benytte.


Når du har valgt hvad du vil købe, går du til bestilling.

Bestillingsprocessen er delt op i nummererede afsnit.

1 ) - Her skal du indtaste egne info.
Dit eget navn, adresse, mail, kontakt info etc.
Det skal vi have for at kunne gennemføre din betaling med kreditkort ifb med afsendelse af fysiske varer.
( Vi sender ikke gaven til dig )

2 ) - Her vælger du Model Gave - Se billede: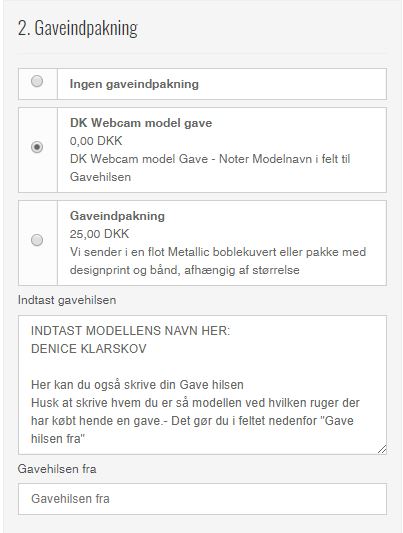 3 ) - Forsendelse

Vi har en fast pris på forsendelse af model gaver uanset vægt.
prisen er 50,00 kroner. Du skal vælge denne løsning for at undgå at skulle indtaste leveringsinformationer
Vi har nemlig modellens informationer så der er ingen grund til at indtaste dine egne.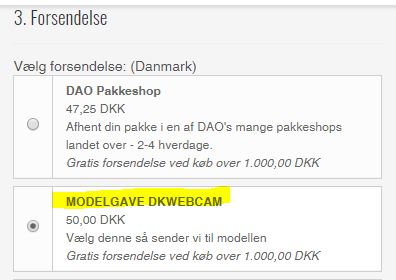 Nu er du sådan set klar til at gå til betaling.

Vælg den ønskede betalingsform og betal.
*bemærk ved bank betaling, send da en mail til os når du har overført beløbet.

Så snart du har gennemført ordre modtager du bekræftelse.
Herefter modtager du en mail når vi behandler ordren og igen når den er afsendt.

Vi sender Track and Trace til modellens mail adresse og ikke til din.

Er du i tvivl kan du altid fange os på Live supporten på DKWebcam.dk eller skrive til os via kontakt herpå siden.